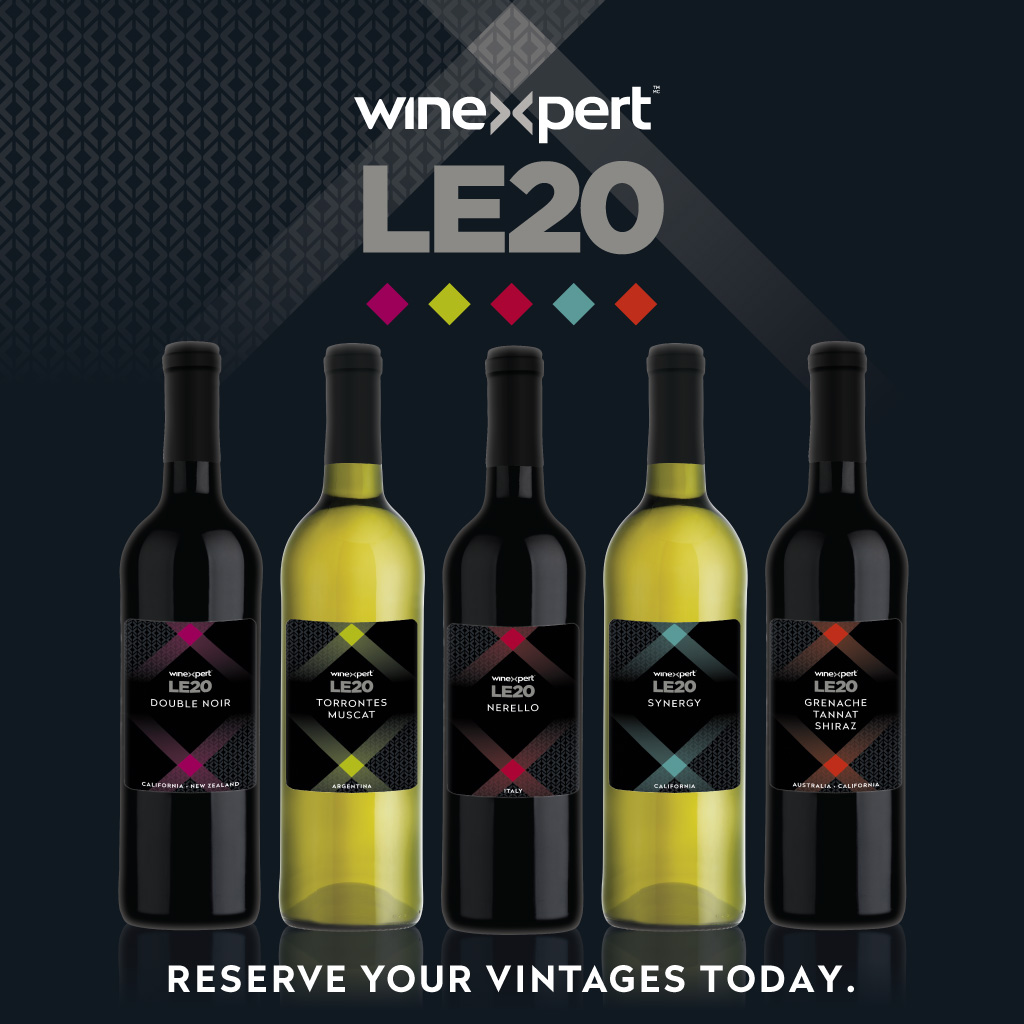 LIMITED RELEASE. UNLIMITED ADVENTURE.
Looking for a new wine adventure?
The Winexpert LE™ collection features limited edition wines of remarkable quality and distinction.
Explore the world's most distinguished wine growing regions with this exceptional series that celebrates the unique, the exciting and the very best – from classic varietals to exceptional blends.
Available by reservation only, this annual showcase features hidden gems in limited quantities. Our most sought-after and popular craft winemaking kit, it's a one-of-a-kind global adventure you don't want to miss.
General Kit Information
Completed: 8 Weeks
Volume: 14 Litres / 3.70 US Gallons
Approximated Yield: 23 Litres
Labels: Included
The pre-order deadline has passed for Winexpert LE20. Keep an eye out for the the 2021 selection next fall!
Wine Styles

Double Noir (Sold out!)
RELEASE DATE: December 2020
Gamay Noir and Pinot Noir are the perfect pair – both varietals feature high natural acidity and low tannins making this an extremely food-friendly wine.  Cherry and cranberry on the nose with a subtle floral note. Strawberry and cherry flavours are accented by an undertone of savoury spice. Vibrant and versatile with freshness and finesse. Try chilling Double Noir an hour before serving.
MARLBOROUGH, NEW ZEALAND  •  LODI, CALIFORNIA
Marlborough garners much acclaim for its cool climate Pinot Noirs. The region enjoys plenty of sunshine and the moderate temperatures see a strong swing between day and night, fostering strong varietal expression. Lodi also sees big temperature swings from day to night, which helps Gamay retain its characteristic acidity.
SIGNATURE FOOD PAIRING: Pull Apart Ham and Gruyere Loaf
ADDITIONAL FOOD PAIRING SUGGESTIONS: Charcuterie, mushroom pizza, barbecue, honey glazed duck breast, marinated pork ribs, brie with cranberry or raspberry sauce, strawberries, spanakopita
SWEETNESS: Dry
BODY: Medium
OAK: Light
ALCOHOL: 13%

Grenache Tannat Shiraz – With Grape Skins (Sold out!)
RELEASE DATE: April 2021
Australian Grenache and Shiraz combine with California Tannat to make this plush, charismatic blend. Grenache provides notes of raspberry and spice. Tannat brings gripping tannins and a whisper of licorice, while Shiraz imparts black plum and peppercorn. This wine layers delicious dark fruit & red berry with complex notes of vanilla, peppery spice, and subtle smoke completed by racy acidity, big tannins and a lengthy finish.
RIVERLAND, AUSTRALIA  •  LODI, CALIFORNIA
The Riverland region wraps around the Murray Darling river, basking in the hot South Australia sun. The Mediterranean climate and long sunny days make for vibrant fully ripened grapes. The winding river provides relief from the sometimes-intense heat, vital access to water for irrigation, and contributes to the region's fertile soils.
SIGNATURE FOOD PAIRING: Asian Marinated Sirloin With Grill-Steamed Greens
ADDITIONAL FOOD PAIRING SUGGESTIONS: Hearty meat dishes like roast beef, bison burgers or lamb shawarma, cassoulet. Dark chocolate, mature hard cheeses.
SWEETNESS: Dry
BODY: Full
OAK: Heavy
ALCOHOL: 14%

Nerello (Sold out!)
RELEASE DATE: February 2021
Grown on the slopes of an active volcano, Nerello is a wine that knows how to get your attention and keep it. Appealing aromas of cherry, strawberry and rose unfold into juicy red berry and crushed strawberry flavours with hints of cinnamon and herbs. Sleek and savoury with earthy and mineral nuances, fresh acidity and smooth, polished tannins.
SICILY, ITALY
Sun-kissed Sicily has been growing grapes for more than 3,000 years; the hot temperatures, consistent sunshine and moderate rainfall make it a wine haven. The slopes around Mount Etna on the island's east coast are a sweet spot for Nerello, where the higher elevation brings cooler nighttime temperatures which help maintain the grape's desirable acidity. The volcanic soils impart mineral notes on the grape, and with Etna's frequent eruptions, soil composition is constantly transforming.
SIGNATURE FOOD PAIRING: Sheet Pan Sausage & Vegetable Dinner
ADDITIONAL FOOD PAIRING SUGGESTIONS: Tuna and swordfish, meatballs, roasted tomatoes, marinated bell peppers, Pasta alla Norma (traditional Sicilian pasta dish with sautéed eggplant and tomato sauce topped with ricotta), chorizo, stuffed red peppers with goat cheese.
SWEETNESS: Dry
BODY: Medium-Full
OAK: Medium
ALCOHOL: 13.5%

Synergy (Sold out!)
RELEASE DATE: March 2021
Chardonnay, Riesling, and Pinot Grigio come together in perfect synergy in this lively off-dry white with tropical and stone fruit flavours, bright acidity, and a crisp balanced finish. Chardonnay provides texture, notes of green apple, pineapple and citrus. Riesling offers lively acidity and floral aromas. Pinot Grigio rounds out the blend with juicy peach, apricot, and pear flavours.
LODI, CALIFORNIA
Located in the middle of California's Central Valley, Lodi has a classic Mediterranean climate of warm days and cool nights and benefits from cool breezes blowing inland from the San Francisco Bay area – a climate that helps lend grapes a refreshing natural acidity. The mineral rich, sandy soils and dry growing season allow growers to precisely manage vine growth through irrigation, producing more concentrated flavours
SIGNATURE FOOD PAIRING: Kimchi Mac & Cheese
ADDITIONAL FOOD PAIRING SUGGESTIONS: Curried chicken kebabs, pad thai, chicken with grilled pineapple, buttered popcorn (goes great with casual cuisine!) Serve well chilled as an aperitif.
SWEETNESS: Off-Dry
BODY: Medium
OAK: None
ALCOHOL: 12.5%

Torrontes Muscat (Sold out!)
RELEASE DATE: January 2021
Torrontes and Muscat, two aromatic whites, share many similarities making them ideal blending partners. Expect floral aromas, fresh peach and citrus flavours and bright acidity. Torrontes, Argentina's signature white wine grape, lends notes of rose petal, geranium and peach, complemented by Muscat's honeysuckle, mandarin orange, and stone fruit flavours.
MENDOZA, ARGENTINA
At the foot of the Andes and an average of 900m above sea level, Mendoza boasts some of the highest vineyards in the world and Torrontes grows particularly well as this elevation. The hot, semi-arid climate is tempered by cool mountain nights, helping the varietal to retain acidity. Dry, rocky soils mean the vines have to work harder for nutrients thereby producing smaller, more concentrated grapes.
SIGNATURE FOOD PAIRING: Coconut Curry Poached Cod
ADDITIONAL FOOD PAIRING SUGGESTIONS: Smoked salmon grilled chicken or fish, empanadas, risotto, pasta with cream sauce, spicy Thai noodles, goat cheese canapes, fruit biscotti, panna cotta
SWEETNESS: Dry
BODY: Medium
OAK: None
ALCOHOL: 13.5%