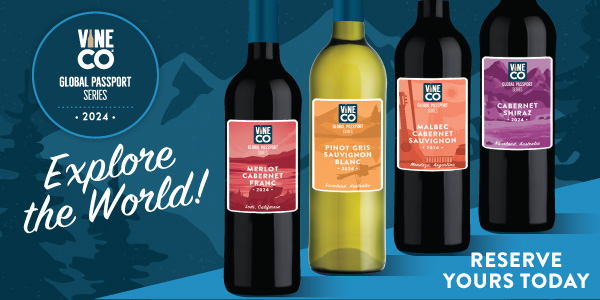 TOUR DIFFERENT TERROIR, EXPLORE THE EXOTIC, AND UNCOVER THE UNIQUE.
Every year, our highly anticipated VineCo™ Global Passport Series
takes us on a new adventure to the most prominent well-respected wine regions – from highly t outed up-and-coming regions to age old vineyards with long histories. A range of classic varietals to charismatic blends, this limit ed release wine series celebrates creativity and insists on excellence. Available for a short time by reservation only, it's a one of a kind wine experience. Where will VineCo™ Global Passport Series take you?
General Kit Information:
Completed: 8 Weeks
Volume: 14 Litres / 3.70 US Gallons
Approximated Yield: 23 Litres
Labels: Included
Pre-order today!
Wine Styles
---

Awesome Australia
Cabernet Shiraz 2004
Riverland, Australia
Body: Full | Sweetness: Dry | Oak: Heavy | Alcohol: 14%
This Australian blend showcases the best qualities of both Cabernet Sauvignon and Shiraz. The Cabernet provides structure and subtle herbal notes, while the Shiraz brings richness and dash of black pepper. The regions warm climate and fertile soils contribute to the wine's brilliant fruit concentration and depth. The aromas and flavours are big and bold in this Riverland blend. Intense flavours of cassis, blackberry and plum are balanced by hints of leather, vanilla, and spice. The wines silky tannins lend to a smooth mouthfeel, while the vibrant acidity adds freshness to this classic Australian blend.
Available: March 2024
---

Savour Mendoza
Malbec Cabernet Sauvignon 2024
Mendoza, Argentina
Body: Full | Sweetness: Dry | Oak: Medium | Alcohol: 13%
This Argentinian blend showcases the best of both worlds, combining the richness of Malbec with the structure of Cabernet Sauvignon. The Malbecs grown here stand strong on their own but when blended with Cabernet, they create complex and powerful wines that represent the Argentine terroir. Ripe red fruits with hints of violet present on the nose. The palate unfolds elegantly with flavours of dark plum, fig and jammy black fruit. Soft and rich tannins enhance the mouthfeel and add to the long rich finish.
Available: February 2024
---

Visit Riverland
Pinot Gris Sauvignon Blanc 2024
Riverland, Australia
Body: Medium | Sweetness: Dry | Oak: None | Alcohol: 12.5%
This blend captures the essence of the Australian sun and breezes that carry across the region. This aromatic medium bodied blend of Pinot Gris and Sauvignon Blanc has a zesty vibrancy that dances across the palate. On the nose you are greeted with passionfruit and a hint of citrus. Fresh flavours of green apple, stone fruit, and gooseberry are complimented by subtle herbaceous nuances. This fresh and well-balanced blend, pairs perfectly with food or a casual gathering of friends.
Available: January 2024
---

Discover California
Merlot Cabernet Franc 2024
Lodi, California
Body: Medium-Full | Sweetness: Dry | Oak: Medium | Alcohol: 13%
Introducing the harmonious medium- full bodied blend of Merlot and Cabernet Franc. These two renowned varietals blend seamlessly together creating a wine that is vibrant with a velvety richness. Enchanting notes of plum, sweet strawberries, and raspberry are followed by subtle hints of chocolate mocha, baking spice and licorice. The Merlot adds the fruity and berry component to the wine while the Cabernet Franc adds more perfumed herbal notes. A silky-smooth mouth feel, fresh acidity, balanced tannins, and a finish that is nothing short of radiant.
Available: December 2023
---